Pasta night 1: The Saint Syndicate, 53rd State
09 February 1999
posted: 24 January, 2012 16:42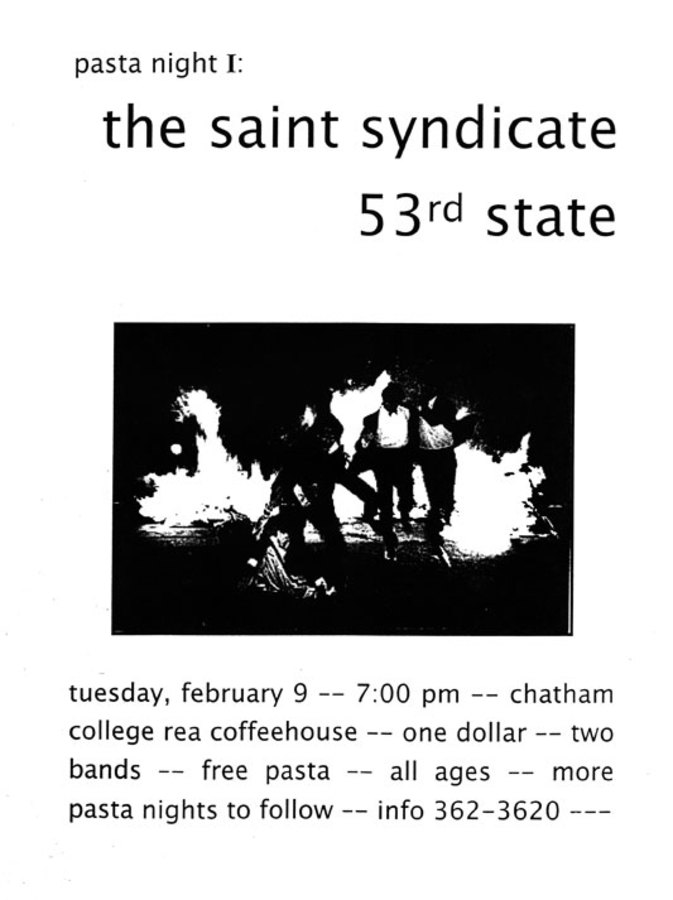 Download as PDF
The first pasta night was a hit; it was the first (or second?) show for the Saint Syndicate, a short-lived Pittsburgh band that was heavy on the organ, and boasted a strong influence of mod 60's pop. They were fronted by an artist who later moved to NYC and was tragically murdered, and I don't think the few recordings they made ever surfaced. A friend from high school was playing bass in the band, though we weren't friends anymore by this time, and I'm not entirely sure if he was still in the lineup then.
53rd State were a young, energetic punk band with a strong emo influence. They were still in high school, and I loved them; there was something accessible and crossover about their songs, and I ended up financing their CD on a pre-Cenotaph venture along with Randy Costanza.
It was only a dollar, and tons of people came including some faces I was surprised to see. We started cooking pasta at 4PM and made a giant vat of it, with cheap supermarket sauce, but people were totally into it and I don't remember the cleanup being that painful.
I don't know why I was so against uppercase letters back then. I guess if you look at the current sidebars of icewhistle.com I'm still not so fond of them. It's almost like my own flyer design style was influenced by Manny's, though I certainly wasn't thinking consciously of "design".
If you have any information to add about this archival item, feel free to get in touch.